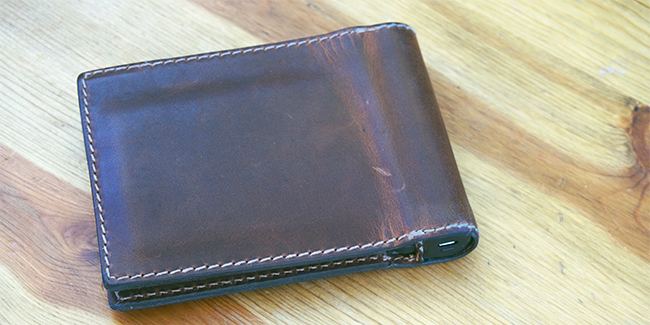 I've had the opportunity to use a unique wallet for the last few weeks: the Nomad Leather Bi-Fold iPhone Charging Wallet. Designed by Nomad and stitched by Horween Leather in Chicago, this wallet addresses one of the modern annoyances in modern life: the lack of sufficient battery power in our devices.
Inside of the Nomad wallet, there's a lipstick-sized battery pack and an built-in lightning cable to charge your iPhone. The battery itself is a Panasonic 2400mAh, enough for a full charge on smaller iPhones and a partial charge on Plus models. When not in use, the lightning cable tucks away into a small pouch in the wallet (see the picture above).
Battery charge is shown in a series of blinks: 4 blinks for full power, 3 for 75% and so on (see photo below). It's charged with a standard micro USB charger, which is included with the wallet.
There is a minor issue I have with the Nomad, and that has to do with the physical battery. In general, wallets are soft: their build materials and contents will flex and often re-shape themselves to your body. The battery in the Nomad is rigid, though, and while it is enclosed in leather, can be a sore spot on your backside depending on how you carry it. I found that putting it into my back pocket battery-side-up was the most comfortable way to wear it. The battery does contribute to a size increase, too: it's about 10-20% bigger than other bi-folds, though I found it fit into all of my pockets just fine.
Sold for $149, and with a $119 slim version available from Nomad or Amazon, this is a quality, well-made leather wallet that offers a nice option for forgetful chargers or emergency situations where your phone battery dies before you can get to a charger. It's comforting to know that you always have a battery handy if you need it, and I noted the battery holds a 100% charge for several days. I used mine mostly as a battery for emergencies, and only needed it once or twice a week, occasionally offering it to a friend whose battery was almost dead while we were out and about.
The Nomad Wallet is a thoughtful device for our modern world. It's built in a classic form by a trusted, talented leather company, yet it contains a very modern and handy addition that's just as valuable as a credit card these days: a battery.