Beats has long been the envy of many headphone-wearers. On their initial release, it was alarming to imagine a set of headphones that cost the same as the audio players they accompanied ($300)…more alarming, maybe, was that they were everywhere. They can still been seen far and wide on celebrity DJs and musicians, and even looking around an airport, many of the headphones you see are Beats.
Now that Apple is an owner of Beats, its clear that the brand is going to be around for a very long time. I got a pair of Beats Studio 2.0s in Titanium to review. Monochrome colors like titanium are some of what you'll see in the second generation of the Studio line. In the box, you'll get a branded carry case with carabiner clip, a USB charging cable, an 2 audio cables: one matching the monochrome color (in my case, titanium) and one in standard Beats red with an inline mic/remote (pictured). The headphones themselves fold inward to fit in the travel case.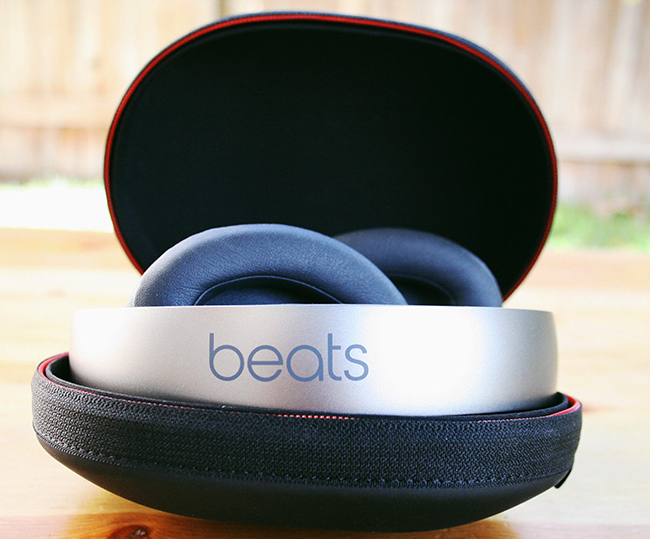 As far as build quality, these are incredible headphones. Heavy-duty metal hinges line the folding points, the headphones themselves are carry-able and wearable for long periods of time (the battery will last 20+ hours), yet relatively lightweight. Beats Studios power on when the headphone wire is plugged in and off when unplugged. One of my favorite elements of the pair is the leather earcups, which are low-profile, though large and comfortable, and prevent your ears from getting sweaty after long periods of wear.
Obviously, the critical detail of any headphone design is sound quality. Beats Studio are noise cancelling headphones, and when you put them on, you notice this. Without music playing, there is a subtle buzz that you'll hear – if you've used noise cancelling headphones before, that'll be familiar to you, though. Once you play music, movies, TV or games through the headphones, you'll get a rich, deep sound that you'd expect from professional over-the-ear headphones. I experienced deep bass, though not out of proportion, and quality sound across the spectrum without any distortion.
Headphones these days are multimedia devices, and I even used my Beats to make some phone calls. I experienced some of the clearest calls I've ever made due to the noise cancelling. It was a great feeling, but I wouldn't advise using them while driving as you won't be able to hear the road noise at all.
Beats offers a wide line of audio products, and at $299, Studio 2.0s are a worthy and quality over-the-ear headphone experience. The titanium color is available at Amazon here. I particularly like the monochrome color options and the comfort during long-term wear (I use them to record our weekly podcast).