I haven't been shy here at Simple Guy Stuff about my love for Nomad's gear for the Apple Watch, which ranges from the fashionable to the technologically helpful. Nomad's Modern Strap is my favorite Apple Watch band.
That said, when Nomad offered to let me check out some of their brand-new leather cases for the iPhone X, I jumped at the chance. Here are the cases I tried, pictured left to right above:
Since the iPhone X was just released yesterday, I've had just a bit of time to try the cases out. Right now, I'm using the Rugged Leather case on my phone, which I chose for 2 reasons: the way it looks with my Nomad Apple Watch band (pictured) and because I wanted to use a Qi charger with my iPhone X (more on that below).
Here's the flipside of the Rugged Case. A simple, tight black edge with functional, covered buttons. Because of the design of the iPhone X, you can't really tell if you're rocking the silver or black model until you get to the back of the device, so either one will look mostly the same with this case.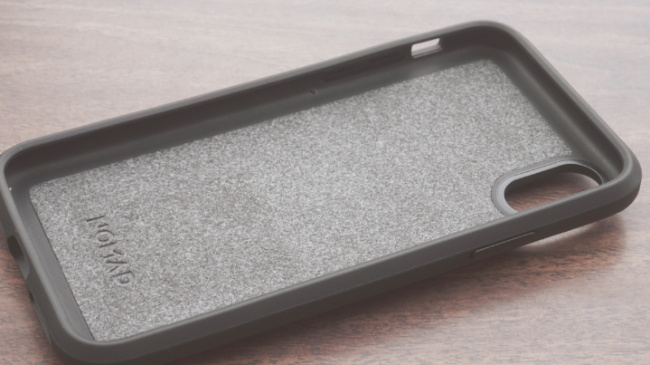 Internally in both the Rugged and the Wallet case is a nice, thin layer of foam for added drop protection. Of the 3 cases here, the Wallet and Clear case are rated for 6-foot drops, while the Rugged case is good up to 10 ft.
Since one of the new features of iPhone 8s and the X is Qi wireless charging, I wanted to put that to the test with these. Each case enabled me to use a Qi charger and my phone charged great without interruption. If you are considering using the Nomad Wallet Case with a Qi charger: don't do it if you're putting credit cards in it (business cards are ok). Qi chargers can potentially damage RF chips and magnetic stripes in credit cards.
Depending on your iPhone X's hardware color, that may be where the Clear Case really shines. With the same type of Horween leather as the other 2 cases, this one is a little less rigid (TPE is used for the clear part) and a "patch" of leather where it rests in your hand. We tried this on both a black and silver iPhone X, and objectively, I'd say the silver model looks cooler in this case. It's easier to see the Apple logo.
Overall, Nomad's line of iPhone X leather cases are well built and great-looking. One minor complaint I have is that the vibrate/ring switch is buried a little deep in the Rugged and Wallet cases for a guy like me with short fingernails and fat fingertips. Outside of that small quibble, these are definitely the cases I'll be using on my iPhone X for quite some time.