Something inside me is always searching for the perfect bag for various circumstances. For instance, I have 2 iPad messenger bags…and don't even have an iPad anymore. I don't, however, have a good duffel bag, and on a search, I came across the Flowfold brand, a made-in-the-USA brand of "minimalist outdoor gear."
I got the opportunity to try their duffel bag, accessory pouch and a couple of wallets.
The Conductor 40L Duffel Bag ($98) is perfect. A duffel should be large and useful, and other than is huge interior, this one has a useful side pocket, plus the expected handles and shoulder strap. It also has a fancy zipper (see above) that helps it resist water and snags. This is a great, sturdy camping bag that you can just rinse off when you're back from the wilderness.
Flowfold's Ace Accessory Pouch ($30) is one of those bags I didn't know I needed until I got it. measuring 9″x5″, this slips easily into your larger day bags, but helps you keep your everyday carry items well-sorted, like chargers, pens, headphones or cash. I've found it a great bag for cigars, lighters and cutters, too. It has a loop on the side for easy carry if all you need for you day is the pouch, too.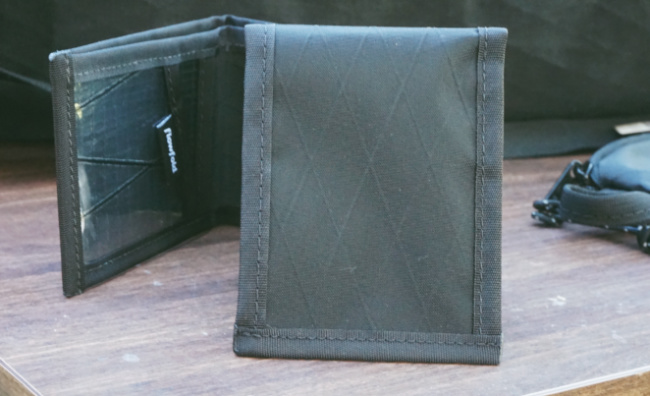 Along with other packs and gear, Foldfold's also got about a dozen wallets in many shapes and configurations. I'm trying out their Vanguard ($29) in Black Pearl (pictured above left and below) and the limited Jet Black (pictured above right). These have layers of "ballistic nylon webbing" – in fact, the Black Pearl is made of it inside and out – that lead to a lightweight, thin, but very durable finish. These are long-life wallets with a touch of waterproofing, too.
I'm a fan of back-pocket wallets, but like mine to be extremely thin, so these sturdy wallets have become part of my usual rotation.
Whether a larger outdoor bag or a useful city-dweller application, I've now got a few more bags for that perfect application, plus some handy, thin, back-pocket wallets as well.